Zero Waste Facility Certification
Guiding facility operators towards a Zero Waste level of performance!
Zero Waste Facility Certification is a program offered by Zero Waste Canada, the national affiliate of the Zero Waste International Alliance (ZWIA). The objective of this program is to guide facility operators towards a Zero Waste level of performance.
The program is divided into two core stages:
Stage One: On The Road To Zero Waste Recognition
As a facility works towards certification, they may be formally recognized by Zero Waste Canada with ON THE ROAD TO ZERO WASTE recognition status.
Stage Two: Zero Waste Certification
Zero Waste Facility Certification which is comprised of three distinct levels of performance; SILVER, GOLD and PLATINUM.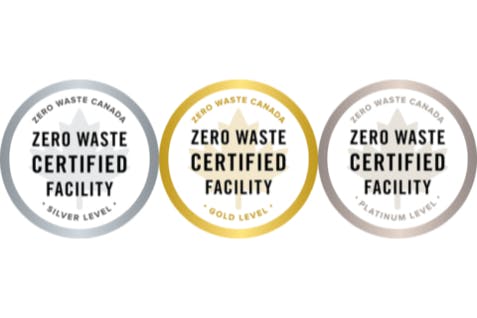 How To Start Your Zero Waste Journey
---
Register

Engage with a consultant and start your Journey through the certification process.

VERIFY

Submit your documentation to start the verification process.

OBTAIN CERTIFICATION

Zero Waste Canada will send you a Recognition or Certification package upon successful verification.
Interested in connecting with a Zero Waste Consultant?
Zero Waste Canada will connect you with a Zero Waste Consultant if you do not already have a Zero Waste or waste consultant to work with on your Zero Waste Journey. Simply fill out the form below:
Zero Waste Canada believes that Zero Waste is a journey.
A journey along which we are always supportive, yet never satisfied.
While we recognize that Zero Waste is not about being perfect, we know that Zero Waste is about continuously striving for improvement. By establishing Zero Waste as our direction, we open the door to valuable opportunities that extend well beyond waste reduction. This program has been designed as a logical progression, where the criteria at each level represent a stepping stone towards the next. Precisely because we believe that Zero Waste is the journey more than the destination. We periodically review our program criteria, because we ourselves are continuously striving for improvement, and encourage widespread participation to further Zero Waste policies and practices across Canada.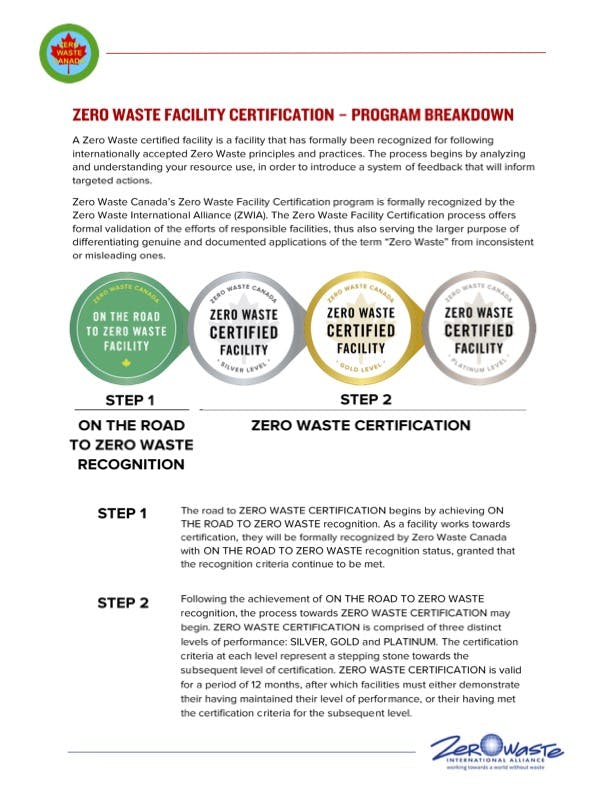 THE MEANING OF SILVER, GOLD & PLATINUM LEVEL ZERO WASTE CERTIFICATION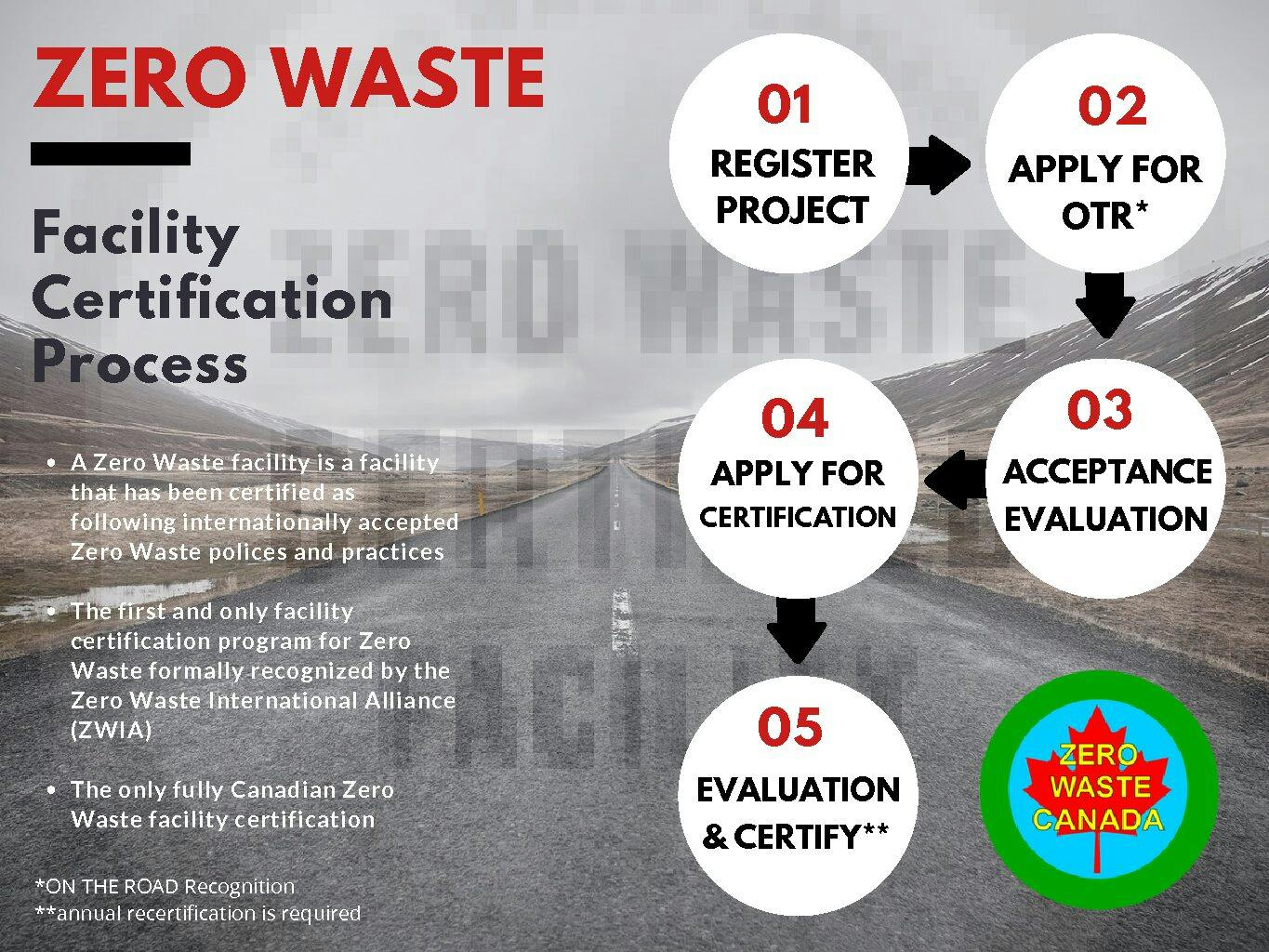 ZERO WASTE FACILITY CERTIFICATION PROCESS
Who Gets Certified and Why?
Looking for event certification? Check out our event certification page.
Any facility may work towards implementing Zero Waste policies and practices.
Here are our most commonly encountered motives for embarking upon the Zero Waste journey.
Industry Leadership: "We want to be the first to set this standard of performance within our industry."
Mission & Vision Alignment: "We want to align our own operations with our mission, vision and values as an organization."
Talent Attraction: "Working in a competitive environment, we want more ways to attract talent, and keep that talent in-house."
Brand Equity & Culture: "We want to establish a unique, values based relationship with everyone who walks into our facility."
Network: "We want to grow our network and be part of the Zero Waste community."
Operational Framework: "We want a structured framework that will guide us towards improvement and efficiency in measurable ways."
Risk Management: "We want to have more control over our supply chain, to be prepared to meet increasing public expectations and forthcoming regulatory changes."
Benefits
Zero Waste is ultimately about much more than just waste, which means the value of Zero Waste extends far beyond environmental and operational benefits.
Facilities going through the program may expect a wide range of outcomes, some of which are outlined below:
Environmental: achieving internationally recognized standards for Zero Waste.
Economic: uncovering opportunities for avoided costs via product re-use policies, material substitution, waste hauling fees and purchasing expenses.
People & Culture: redefining the role and value of employees as educators when communicating with colleagues, suppliers, investors, partners and patrons alike.
Impact Measurement: achieving a superior understanding of the financial, environmental and social impact of your resource use via an internal system of metrics and feedback.
Brand Equity: authorization to formally feature Zero Waste Canada's ON THE ROAD TO ZERO WASTE facility badge, and ultimately, its ZERO WASTE CERTIFIED facility badge.
Credibility: achieving formal recognition of Zero Waste efforts by Zero Waste Canada.
Customer Experience: establishing a unique, values based relationship with customers.
Exposure: name and website featured across all Zero Waste Canada channels of communication, certifying the achievement of ON THE ROAD TO ZERO WASTE recognition or ZERO WASTE CERTIFICATION (including website, social media, newsletters, educational materials, media appearances, nation-wide chapter meetings, public and private presentations and outreach).
Media: dedicated press release on behalf of Zero Waste Canada.
Membership: Zero Waste Canada Business Membership.
Program Fees
Zero Waste Canada's Zero Waste Facility Certification program fees consist of:

*On the Road Verification Requires only Desktop Verification.
**The outlined registration fees are based on full-time equivalent and cover all associated administrative costs for Zero Waste Canada.
***The On-site verification* fee applies only for Silver, Gold and Platinum certification level.The Verification is performed by a third party verifier. Additional travel expenses may apply.